Bassel Khartabil was detained in Syria on March 15, 2012. He remains not free to this day. Before his detention I met him twice at international conferences, and I immediately recognized him as a colleague and as an ally.
If he is a stranger to you, I encourage you to learn more about him. His website bassel.ws has been offline but a snapshot was taken by the Internet Archive on Jan 6, 2012. His works are about Art, Commons, Movies, Web, and Free Culture — that is how he categorized his posts on his blog. It is truly sad that a person who is working to help ideas and information flow freely is himself imprisoned apparently for no reason.
This is injustice to him and to all who work like him. Bassel must be freed, so will we.
More about Bassel at Amnesty International (Taiwan).
Photos about Amnesty International Taiwan's Syria Urgent Action on freeing Bassel last October.
Please sign the letter at freebassel.org.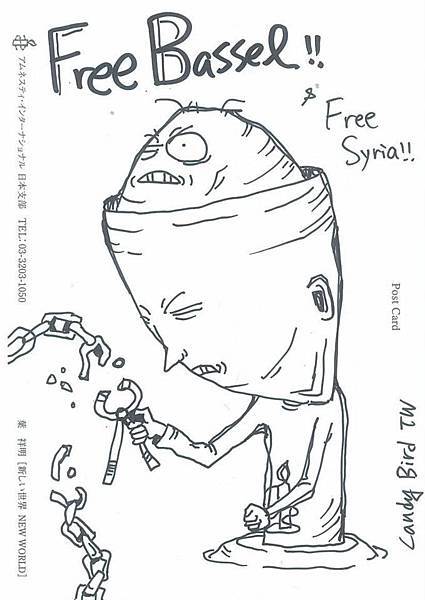 釋放巴賽
「巴賽.卡爾塔畢」(Bassel Khartabil)在2012年3月15日那一天在敘利亞遭受羈押。直到今天他還未獲得自由。他被羈押之前,兩次在國際會議上我見過他,我馬上認得他是同一行也是同一夥的。
如果他對你來說是個陌生人,我鼓勵你多認識他。他的網站 bassel.ws 已經連不上線,不過「網際網路典藏組織」(Internet Archive)留存了一份這網站在2012年1月6日當時的面貌。他的工作包括藝術、資源共享、電影、全球資訊網、以及自由文化——部落格上他的文章,他是這樣分類的。致力於理念與資訊的自由流動的工作者,自己卻沒有緣由地身陷牢獄,這讓人十分悲傷。
這對他不公,對所有像他一樣工作的人,更是不平。巴賽必須得到自由,而我們也得自由。
國際特赦組織 (台灣分會)網站上關於巴賽的資訊。
國際特赦組織台灣分會去年十月為援救巴賽所舉行的「敘利亞緊急行動」的活動紀錄。
請上網站 freebassel.org 簽署聲援信。